Christ/Christology (in Matthew)
From Anabaptistwiki

Home A B C D E F G H I J K L M N O P Q R S T U V W X Y Z Abbreviations Glossary
---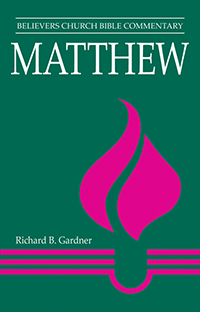 The word Christ comes from the Greek christos, meaning anointed one. In literature from the NT era, christos regularly refers to the Messiah (Hebrew: mašiaḥ), an anointed ruler like King David able to deliver Israel from bondage and rule with strength and justice. Such is the case where christos appears in the Gospels (cf. Matt. 1:1; 11:2), and where the vocation of Messiah is ascribed to Jesus (albeit somewhat cautiously). In the context of the early church, christos soon came not only to designate Jesus as the Messiah, but it became part of Jesus' proper name as well. Thus the letters of Paul and Christian writings ever since abound with references to Jesus Christ.
Narrowly defined, the word Christology would refer only to teaching about the Messiah. Most often, however, Christology serves as an umbrella word that covers all the terms and concepts used to define who Jesus is and his role in God's design. With that broader definition in mind, what can we say about Matthew's Christology? What christological themes or categories stand out in the First Gospel?
For Matthew, Jesus is God with us, to inaugurate God's reign, speak and act with God's power, and create a community that lives in a right relationship with God. Matthew's Christology is a narrative Christology, a Christology shaped first by the story of what God was doing in and through Jesus of Nazareth. Along the way, Matthew uses a number of titles for Jesus that have an earlier history in Jewish tradition, titles such as Messiah, Lord, Servant, Son of David, and Son of God. He also takes over an expression found in his sources, in which Jesus refers to himself as the Son of Man. When such categories appear, however, one should not interpret them simply in terms of what they meant in earlier Jewish contexts. Matthew redefines old categories and fills them with new meaning. For instance, Messiah no longer refers to someone who saves and rules by political conquest, but to one who mediates the mercy and power of God that heals human brokenness.
Of the various titles and motifs at his disposal, two that Matthew highlights to express his understanding of Jesus are (1) the Son of God and (2) the Wisdom of God. According to Matthew, Jesus enjoys a unique relationship with God from the moment of his conception by the Spirit (1:18–23). This is confirmed in the story that follows by epiphanies in which God attests Jesus' sonship (cf. 3:17; 17:5). In episode after episode, Jesus acts with divine authority (cf. 7:29; 9:6). Jesus also exhibits familial intimacy with God in naming God as Father (cf. 7:21; 11:25), and in the open confession of Jesus as God's Son at strategic junctures in the narrative (cf. 16:16; 27:54). As God's Son, Jesus knows God as no one else does and so is able to reveal God's purpose and will to his followers (cf. 11:27).
To put it another way, Jesus as God's Son is able to speak as divine Wisdom, the Wisdom of God that has been making God's ways known to Israel from the very beginning. Thus Jesus can subordinate the word of Moses to his own word (5:21–22). His deeds can be described as the deeds of Wisdom (11:19), he can invite persons to come to himself to discover Wisdom (11:28–30), and he can speak as Wisdom speaks of sending out God's messengers (23:34; cf. Luke 11:49).
In these and other ways, Matthew's story prepares us for the ringing announcement at the end of the Gospel: All authority in heaven and on earth has been entrusted to the risen Jesus (28:18). The one who came as God-with-us to inaugurate God's reign in Israel is now powerfully at work as God-with-us to extend that reign—to create a people of God drawn from every tribe and nation. (For further comment on Matthew's Christology, cf. TBC and TLC on 1:18–25; 2:1–12; 7:13–29; 11:20–30; and 17:1–13.)
Bibliography
de Jonge, Marinus. Christology in Context: The Earliest Christian Response to Jesus. Philadelphia: Westminster, 1988.
Kingsbury, Jack Dean. Matthew: Structure, Christology, Kingdom. Philadelphia: Fortress, 1975.
Meier, John P. The Vision of Matthew: Christ, Church, and Morality in the First Gospel. New York: Paulist, 1979.
Neyrey, Jerome H. Christ Is Community: The Christologies of the New Testament. Wilmington, Del.: Michael Glazier, 1985.
Nolan, Brian M. The Royal Son of God: The Christology of Matthew 1–2 in the Setting of the Gospel. Göttingen: Vandenhoeck & Ruprecht, 1979.
Richard, Earl. Jesus One and Many: The Christological Concept of New Testament Authors. Wilmington, Del.: Michael Glazier, 1988.
Suggs, M. Jack. Wisdom, Christology, and Law in Matthew's Gospel. Cambridge, Mass.: Harvard University Press, 1970.


See also Bearing One's Cross (in Mark)