Disciples and Discipleship (in John)
From Anabaptistwiki

Home A B C D E F G H I J K L M N O P Q R S T U V W X Y Z Abbreviations Glossary
---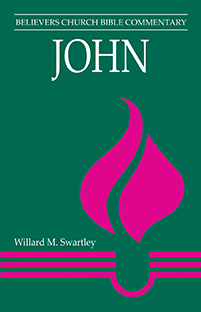 The word disciple(s) occurs 81 times in John (compared to Matt, 74; Mark, 45; Luke, 38). The word disciple does not occur in the Johannine epistles! The named disciples in John are Andrew, Simon Peter, Philip, Nathanael, Thomas, Judas (not Iscariot; 14:22), and Judas, son of Simon Iscariot (6:71). Unique to John, someone called "the beloved disciple" appears in prominent roles. The sons of Zebedee are mentioned (21:2) but never named. John is always "John the Witness" (appropriately called John the Baptist in the Synoptics, but not in John). Seven of the disciples identified elsewhere in the NT (in Mark 3:16-17; Matthew 10:2-4; Luke 6:12-16; cf. also Acts 1:13) are not named in John: two Jameses, Matthew, Thaddeus, Simon the Zealot, Bartholomew. These disciples are not named in John, though some propose that Bartholomew and Nathanael are the same disciple. John speaks of "the twelve" in 6:67, 70, 71 and 20:24.
John varies the number of disciples (cf. 1:35-51 with 6:60, 66 and 21:2). Only Philip is called at the outset, "Follow me" (1:43; for Peter, see 21:19); others are "transferred" to Jesus by John and become disciples gathering around Jesus (see TBC "Gathering Disciples" for 1:19–2:12). Some of these are introduced to Jesus by friends (see commentary on 1:35-51). Nathanael (1:45-51; 21:2) and the "beloved disciple" do not appear in the Synoptics. The unnamed "sons of Zebedee" appear only in John 21:2.
Commentators generally do not perceive discipleship as one of John's primary themes, though Chennattu's Johannine Discipleship as a Covenant Relationship is a wonderful exception. The essays by Segovia (1985) and Hillmer (1996) appear in volumes that address discipleship in the entire NT. Both are helpful, though Segovia excludes 13:31-35 and chapter 21, regarding them later additions. Hillmer recognizes the importance of discipleship in John. Discipleship involves both relationship with and abiding in Jesus. It means following Jesus and keeping Jesus' commandments, especially loving one another. Believing in and confessing Jesus encompass both relationship and action: discipleship interacts with Christology (84-93, 96).
Chennattu rightly sees discipleship permeating John's entire narrative. In John 1:35-51,
the disciples are initiated into a process of following Jesus. [In chapters 2–4,] the disciples are given various models of discipleship as Jesus reveals the presence of God. In chapters 5–10, . . . the disciples and characters in the story are provided with revelations of God in Jesus' words and work, and are confronted with choices for or against Jesus. Chapters 11–12 heighten the urgency of decision and set the stage for Jesus' hour. (71)
Her outline of Jesus' farewell speech carries forward the discipleship theme (82), focusing particularly on the beloved disciple (100–201). She titles John 17, "A Prayer Consecrating the Covenant Community of the Disciples" (130). She also identifies "Covenant-Discipleship Motifs in John 20–21," emphasizing reclaiming in John 20:1-18, empowering in 20:19-31, and constituting the new covenant community in 21, to which she could add discipleship (140–79). Chennattu's contribution is particularly helpful for believers church communities of faith.
This commentary highlights discipleship at various places (1:35-51; 13:31-35; and chap. 21). Jesus teaching his disciples is prominent (4:27-38; 6:1-21, 60-71). In 7:2-3 Jesus' brothers tell him to go to Judea so that your disciples also may see the works you are doing. Jesus' farewell addresses his disciples. After Jesus' resurrection, he appears twice to the disciples (20:19-29), giving them the "Great Commission" and eliciting Thomas's confession. The entire Gospel teaches true discipleship, with the beloved disciple as model.
Bibliography
Barnes, Elizabeth. The Story of Discipleship: Christ, Humanity, and Church in Narrative Perspective. Nashville: Abingdon, 1995.
Chennattu, Rekha M. Johannine Discipleship as a Covenant Relationship. Peabody, Mass.: Hendrickson, 2006.
Dyck, Cornelius J. "Hermeneutics and Discipleship." In Essays on Biblical Interpretation: Anabaptist-Mennonite Perspectives, ed. Willard Swartley, 29–44. Text Reader Series 1. Elkhart, Ind.: Institute of Mennonite Studies, 1984.
Hillmer, Melvin R. "'They Believed in Him': Discipleship in the Johannine Tradition." R. Longenecker, ed., 77–97. Grand Rapids: Eerdmans, 1996.
Howard-Brook, Wes. Becoming Children of God: John's Gospel and Radical Discipleship. Maryknoll, NY: Orbis, 1996.
Köstenberger, Andreas J. The Missions of Jesus and his Disciples according to the Fourth Gospel: With Implications for the Fourth Gospel's Purpose and the Mission of the Contemporary Church. Grand Rapids: Eerdmans, 1998.
Pazdan, Margaret. "Nicodemus and the Samaritan Woman: Contrasting Models of Discipleship." Biblical Theology Bulletin 17 (1987): 145–48.
Schneiders, Sandra M. "To See or Not to See: John 9 as a Synthesis of the Theology and Spirituality of Discipleship." In Word, Theology, and Community in John, ed. Painter, Culpepper, and Segovia, 189–209. St. Louis: Chalice, 2002.
Segovia, Fernando F. "Peace I Leave with You; My Peace I Give to You: Discipleship in the Fourth Gospel." In Discipleship in the New Testament, ed. Fernando F. Segovia, 76–102. Philadelphia: Fortress, 1985.
Invitation to Comment
To recommend improvements to this article, click here.