What is the Global Anabaptist Wiki?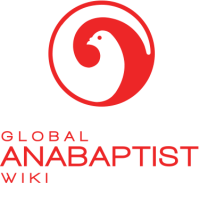 The Global Anabaptist Wiki is an interactive community of Anabaptist-Mennonite groups from around the world. Initiated by the Mennonite Historical Library at Goshen College, the site is committed to helping individual groups: 1) post and preserve electronic archives; 2) develop their own historical profile; and 3) become better informed about other groups in the global Anabaptist fellowship. Like all wiki-based projects, this is a collaborative venture that relies on the local expertise of many people.
Recent updates:
To explore more updates, view our recently added pages or recent changes. Check back frequently to see what new material has been added!
Browse Anabaptist Communities




By Region (Click on a continent to begin)

By Members of Family Tree



Sources

We envision the Global Anabaptist Wiki to become a major site for primary sources related to the Anabaptist-Mennonite tradition: from the 16th century to the present and in a wide variety of languages. Please post any public domain sources you think might be of interest to other users of the Global Anabaptist Wiki. Our staff will help to sort and organize source material into appropriate categories as it is added.
To learn about contributing sources, start at the about sources page.
To view sources organized by region, check out the sources page.
Projects

The purpose of the online Anabaptist Dictionary of the Bible (ADB) is to reflect critically on an Anabaptist approach to the reading of the Bible. The Dictionary is intended to serve those in the Anabaptist traditions as well as to be a respectful conversation partner with those in other Christian traditions as authors give voice to an appreciatively critical Anabaptist perspective.
---
La Biblioteca Digital Anabautista les ofrece a estudiantes y pastores de la identidad anabautista en Latinoamérica y Norteamérica unos recursos electrónicos de los siguientes temas: Anabautismo, Análisis del Contexto, Estudios Bíblicos, Historia, Ministerios Cristianos, Paz y Justicia, y Teologia.
---
A Day in the Life of the Global Anabaptist Church

The "A Day in the Life of the Global Anabaptist Church" project was initiated to collect, archive, and make public photos and videos of Anabaptist Churches. We hope these glimpses or "snapshots" of churches around the world can help people gain a visual sense of the places and spaces of worship of our fellowship in different parts of the world.
---
Online Anabaptist-Mennonite Library
In 2012, GAMEO transferred its online library (then called the Anabaptist Mennonite Ethereal Library) containing the full texts of significant Mennonite confessions of faith and position statements on a variety of issues. These valuable sources can now be found in the Online Anabaptist-Mennonite Library.
---
"Right Remembering": Anabaptist-Mennonites in Conversation with Other Christians
The "Right Remembering" collection offers a window into the relatively recent involvement of Mennonite (and Anabaptist-related groups) in ecumenical engagements, including bibliographic information on Anabaptist-Mennonite ecumenical involvements, texts of working papers and formal statements, a historical overview and links to other resources.
---

"Bearing Witness: Martyrdom and Costly Discipleship in the Anabaptist-Mennonite Tradition" includes resources on topics related to martyrdom, costly discipleship, and the challenge of memory among groups in the Anabaptist-Mennonite tradition.
---

El Centro de Recursos Electrónicos Anabautistas - CREA es un sitio wiki en español que aloja documentos, artículos, audio, video, cursos, charlas y conferencias, y otros materiales de interés para las iglesias y cristianos/as Anabautistas de habla hispana en Latinoamérica y Estados Unidos.