Ecumenical Dialogue
From Anabaptistwiki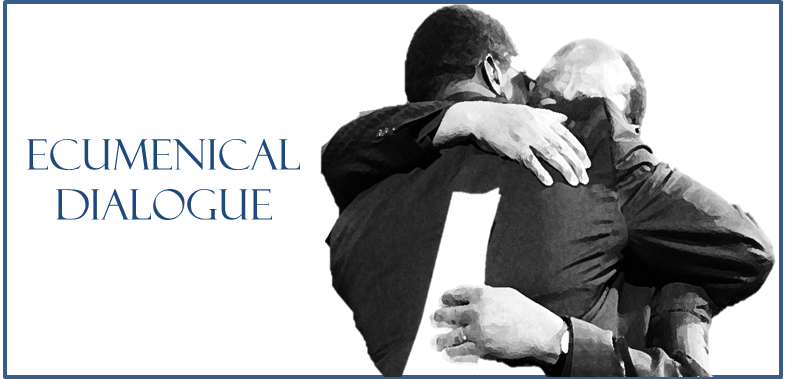 Mennonite World Conference President Bishop Danisa Ndlovu and LWF General Secretary Rev. Dr Ishmael Noko embrace following Dr Noko's message to the 2009 MWC World Assembly concerning Lutheran regret for persecution of Anabaptists. © Lowell Brown[1]
Ecumenical Dialogue Between Mennonites and Other Christian Faith Traditions
| | | | | |
| --- | --- | --- | --- | --- |
| | | | | |
| Lutherans | Baptists | Seventh-Day Adventists | Roman Catholic Church | Reformed Church |
---
This page is currently under construction. When finished, it will provide information concerning ecumenical dialogue between the Mennonite church and other Christian faith traditions.
Reconciliation

Mennonite World Conference President Danisa Ndlovu of Zimbabwe presents Lutheran World Fellowship President Bishop Mark S. Hanson with a wooden foot-washing tub to represent Mennonites' commitment to a future "when the distinguishing mark of Lutheran and Anabaptist-Mennonite relationships is boundless love and unfailing service" in Stuttgart, Germany.

Year

2010
Past Dialogue and Reconciliation
Stuttgart 2010
"STUTTGART, Germany (RNS/ENInews) A global Lutheran assembly in Germany has asked for forgiveness for the 16th-century persecution of Anabaptists, the religious reformers whose modern-day descendants include Mennonites. "We remember how Anabaptist Christians knew suffering and persecution, and we remember how some of our most honored Reformation leaders defended this persecution in the name of faithfulness," said Bishop Mark Hanson, president of the Lutheran World Federation, at a joint service of repentance with Mennonites on July 22." Excerpt taken from The Christian Index, accessed here.
Ongoing Dialogue
Tri-Lateral Dialogue on Baptism
Bibliography of Ecumenism
Lutherans
Stuttgart
Impact of Stuttgart on Mennonite Congregations Worldwide
Baptists
| Dialogue with Baptists | Notes |
| --- | --- |
| Something, Something. | DVD |
| Words Words | Libretto printed as program for presentation at Goshen College, 1971 October 31 |
| Insert bibliographic citation here. | Includes Martyrs Mirror oratorio |
Seventh-day Adventists
Theological conversations between members of Mennonite World Conference and the General Conference of Seventh-day Adventists met from June 28 to July 1, 2011, in Silver Spring, Maryland, headquarters to the Seventh-day Adventists Church.
| Dialogue with Seventh-day Adventists | Notes |
| --- | --- |
| "Mennonites begin ecumenical dialogue with Seventh-Day Adventists." | Online article.[2] |
| Words Words | Libretto printed as program for presentation at Goshen College, 1971 October 31 |
| Insert bibliographic citation here. | Includes Martyrs Mirror oratorio |
Roman Catholic Church
| Dialogue with the Roman Catholic Church | Notes |
| --- | --- |
| Something, Something. | DVD |
| Words Words | Libretto printed as program for presentation at Goshen College, 1971 October 31 |
| Insert bibliographic citation here. | Includes Martyrs Mirror oratorio |
Reformed Church
| Dialogue with Reformed Church | Notes |
| --- | --- |
| Something, Something. | DVD |
| Words Words | Libretto printed as program for presentation at Goshen College, 1971 October 31 |
| Insert bibliographic citation here. | Includes Martyrs Mirror oratorio |
See also Stuttgart Apology, Tri-Lateral Dialogue on Baptism