Ecumenical Dialogue
From Anabaptistwiki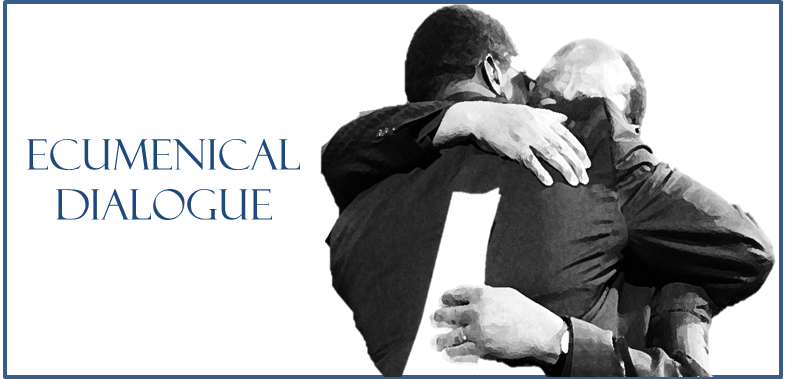 Mennonite World Conference President Bishop Danisa Ndlovu and LWF General Secretary Rev. Dr Ishmael Noko embrace following Dr Noko's message to the 2009 MWC World Assembly concerning Lutheran regret for persecution of Anabaptists. © Lowell Brown[2]
Ecumenical Dialogue Between Mennonites and Other Christian Faith Traditions
---
This site, currently under construction, offers a window into the relatively recent involvement of Mennonite (and Anabaptist-related groups) in ecumenical involvements of various sorts. Some expressions of Mennonite ecumenicity have emerged in response to formal invitations from other Christian groups seeking a "healing of memory" in light of the conflict that surrounded our origins in the 16th century. Other ecumenical engagements have been more informal--lay initiatives seeking deeper understanding and reconciliation at a local level. This site provides access to bibliographic information on Anabaptist-Mennonite ecumenical involvements, texts of working papers and formal statements, an overview of the emerging reception history and links to other resources. Please add additional relevant information based on your own interest and expertise!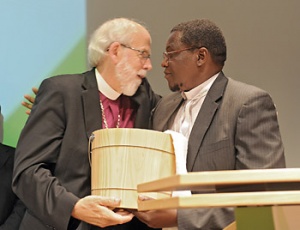 Interchurch and Interfaith Dialogue
Over the years, Mennonite Church USA, Mennonite Church Canada and other Mennonite organizations like Mennonite World Conference have engaged in conversation between other Christian churches and denominations.
"STUTTGART, Germany (RNS/ENInews) A global Lutheran assembly in Germany has asked for forgiveness for the 16th-century persecution of Anabaptists, the religious reformers whose modern-day descendants include Mennonites. "We remember how Anabaptist Christians knew suffering and persecution, and we remember how some of our most honored Reformation leaders defended this persecution in the name of faithfulness," said Bishop Mark Hanson, president of the Lutheran World Federation, at a joint service of repentance with Mennonites on July 22." Excerpt taken from The Christian Index, accessed here.
Tri-Lateral Dialogue on Baptism
Local and Grassroots Initiatives
Bridgefolk
"Bridgefolk is a movement of sacramentally-minded Mennonites and peace-minded Roman Catholics who come together to celebrate each other's traditions, explore each other's practices, and honor each other's contribution to the mission of Christ's Church. Together we seek better ways to embody a commitment to both traditions. We seek to make Anabaptist-Mennonite practices of discipleship, peaceableness, and lay participation more accessible to Roman Catholics, and to bring the spiritual, liturgical, and sacramental practices of the Catholic tradition to Anabaptists." (Excerpt taken from the official Bridgefolk website.)
"Heal Our Land" Conference
"From May 1-4, 2003, in a conference center at Winterthur, in the mountains of Switzerland, over 1000 Christians from all over the world met to joyfully worship, prayerfully seek and faithfully obey the God who heals our land by healing our broken relationships. This "Heal Our Land" conference was sponsored by the Stiftung Schleife, a Christian ministry devoted to serving the body of Christ and headed by Geri Keller, a Swiss Reformed minister." (Excerpt taken from "Come, Father, Heal Our Land.")
"A Swiss Reformed pastor for thirty years has carried a burden for reconciliation between these two groups. Geri Keller, founder of a parachurch ministry called Stiftung Schleife, organized the conference. There were many Anabaptists who attended from Switzerland, Germany, France, Austria, Belgium and other parts of Europe, as well as Canada. The Swiss Reformed church was represented by approximately forty Reformed pastors and many lay people, who joined together for the four-day conference. Forty Amish from Montana and Idaho and seventeen Mennonites from the Lancaster and Franconia, PA areas were invited to participate in the conference. My wife Janet and I attended, representing Mennonites from the Franconia Mennonite Conference area. The total number of persons attending the conference exceeded 800." (Excerpt taken from "500-Year Old Swiss Wound Had to be Healed.")
Anabaptist Connections
"Anabaptist Connections" is comprised of two teams, both Amish and Mennonite. These two teams have committed to work together in a covenant relationship. For the first time in Anabaptist history have Amish and Mennonites come together in overcoming ancient animosities and divisions, to work as a corporate team in forging healing and forgiveness." (Excerpt taken from the Anabaptist Connection website.)
"Unlocking our Inheritance" Conference
Swiss Reformed Pastors and Leaders met together with Anabaptists from all denominations, April 7-9, 2005 in New Holland, Pa.
"Unification of all believers in Jesus Christ was a theme of the opening session of a three-day conference titled "Unlocking the Inheritance.'' Despite differences, Hoover said, all in attendance are united in Christ.
Forgiveness and healing were related themes. The Swiss traveled here to ask for forgiveness from Mennonites, Amish, Brethren and other Anabaptists and to heal relationships with them." (Excerpt taken from "Going about the Business of Forgiveness.")
See also: "Anabaptists, Swiss Persecutors will make Amends - 500 years later."
Bibliography of Ecumenism
Church of God
| Dialogue with Reformed Church | Notes |
| --- | --- |
| Insert bibliographic citation here. | Online: |
| Insert bibliographic citation here. | Online: |
| Insert bibliographic citation here. | Online: |
See also Stuttgart 2010, Tri-Lateral Dialogue on Baptism