Erland Waltner
From Anabaptistwiki

Home A B C D E F G H I J K L M N O P Q R S T U V W X Y Z Abbreviations Glossary
---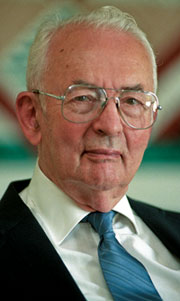 For over sixty years Erland Waltner, the writer of the commentary on 1 Peter, served as pastor, Bible teacher, preacher, church conference leader, and administrator in church institutions and agencies. He grew up on a farm near Freeman, South Dakota. Upon baptism, he became a member of the Salem Mennonite Church. Waltner graduated from Bethel College, North Newton, Kansas, in 1935. He finished his pastoral training at the Biblical Seminary in New York in 1938, and then at his home church was ordained for leadership ministry.
While serving as pastor of the Second Mennonite Church of Philadelphia in 1938–41, he pursued graduate biblical and theological studies at Princeton Theological Seminary, Temple University, and Eastern Baptist Theological Seminary, where he completed two degrees, master of theology (1940) and doctor of theology (1948). During 1941–49 Waltner served as pastor of Bethel Mennonite Church, Mountain Lake, Minnesota. In 1949 he began teaching Bible and religion courses at Bethel College. During the summer of 1954, he taught "Petrine Epistles" in a joint summer school of Goshen (Ind.) College Biblical Seminary and Mennonite Biblical Seminary. Through this experience, he became involved in explorations to establish the Associated Mennonite Biblical Seminaries (now Anabaptist Mennonite Biblical Seminary) at Elkhart, Indiana.
From 1958 to 1978, Waltner served as president and professor at Mennonite Biblical Seminary, then continued at AMBS part-time. In retirement, he was executive secretary of the Mennonite Medical Association for twelve years. During 1956–62 he served as president of the General Conference Mennonite Church, and in 1962–72 as president of the Mennonite World Conference.
He was married to Mary Winifred Schlosser, daughter of missionaries to China, and they are active members of the Hively Avenue Mennonite Church in Elkhart. They are richly blessed by four daughters: Mary, a psychiatric social worker in San Diego; Irene, a public school teacher in Elkhart; Kathy, a professional counselor at the University of Guelph; and Rose Elaine, an ordained chaplain in eastern Pennsylvania. Waltner passed away in 2009.