Difference between revisions of "Frey, Nancy and Lynda Hollinger-Janzen. "Evangelio 3D en Benín." 2015."
From Anabaptistwiki
---
Latest revision as of 12:32, 16 August 2018
---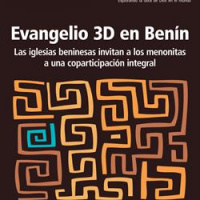 Contenido:
Sinopsis:

El compromiso aquí relatado entre cristianos de Benín y menonitas de Europa y América del Norte se construyó sobre una iniciativa surgida en Benín. Se alimentó además con la inversión de tres continentes en la creación de vínculos significativos. Este compromiso proveyó los cimientos para desarrollar acuerdos de coparticipación que respetaran la subjetividad de cada uno de los coparticipantes y promovieran la dignidad y el compromiso de todas las partes involucradas de rendir cuentas.
El fruto de este compromiso ha reforzado la fe de todos los que tuvimos el privilegio de compartir nuestros modestos dones, y nos recordó que nunca debemos "menospreciar el día de los modestos comienzos". Cada participación en las relaciones y en el proceso de construcción de una coparticipación auténtica puede crecer hasta dar un fruto —y es lo más probable que así ocurra— que algún día nos sorprenderá. Por más modesta que sea, ninguna inversión que hagamos hoy es insignificante.