Gerald Gerbrandt
From Anabaptistwiki

Home A B C D E F G H I J K L M N O P Q R S T U V W X Y Z Abbreviations Glossary
---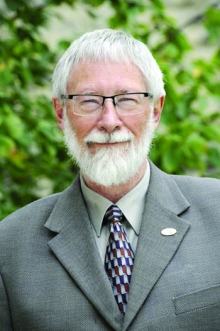 Gerald Gerbrandt gained his love for the Bible and the church from his parents. Although born in Mexico when his parents were doing mission work among the Tarahumara people, he grew up in Altona, Manitoba, where his father taught at Elim Bible School and ministered in the local Bergthaler congregation. His mother was a homemaker but also a key partner in ministry, instigating a Cradle Roll program in the congregation.
During a summer pastoral internship in Reedley, California, Gerald experienced a call to ministry, but one to be exercised in the world of higher education. This led him to Canadian Mennonite Bible College/Canadian Mennonite University, where he taught Bible and served in administration as Academic Dean (1982–1997) and as President (1997–2012). He also served one year as Interim President of Associated Mennonite Biblical Seminary (1995–1996). In addition to various congregational and denominational involvements, he continues to teach part time at CMU.
Gerbrandt completed his doctoral work in Bible at Union Theological Seminary in Virginia in 1980. He received an MDiv from Mennonite Biblical Seminary in 1973, with a year of studies at Earlham School of Religion contributing toward it. He did his undergraduate work at Canadian Mennonite Bible College (BChrEd) and Bethel College (BA). He has also served as Fellow at Tyndale House in Cambridge, England (1986), at the Institute for Ecumenical and Cultural Research in Collegeville, Minnesota (1987; 1994–1995), and as Visiting Scholar at Acadia Divinity College in Wolfville, Nova Scotia (2002–2003).
Gerbrandt's doctoral dissertation was published by Scholars Press as Kingship according to the Deuteronomistic History. In addition to a variety of articles and book reviews, he has also written a Sunday school curriculum for high schoolers called Clues for Gracious Living (Deuteronomy) and a Bible study on Micah, Better than Rivers of Oil.
Since the late 1960s, Gerald and his wife, Esther, have been active members of Bethel Mennonite Church, Winnipeg, Manitoba. They have three married children and four grandchildren.