John W. Miller
From Anabaptistwiki

Home A B C D E F G H I J K L M N O P Q R S T U V W X Y Z Abbreviations Glossary
---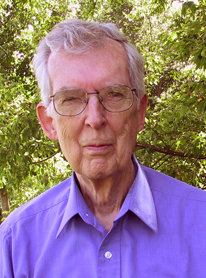 John W. Miller, author of Proverbs, has combined an active life of scholarship, writing, university teaching, and pastoral leadership. He is professor emeritus at Conrad Grebel University College, an affiliate of the University of Waterloo in Ontario.
The author of numerous articles and books, his titles include The Origins of the Bible, Rethinking Canon History (1994), Jesus at Thirty: A Psychological and Historical Portrait (1997), Calling God "Father": Essays on the Bible, Fatherhood and Culture (1999), and How the Bible Came to Be: Exploring the Narrative and Message (2004).
Miller is a graduate of Goshen College (1948), Princeton Theological Seminary (B.D. 1951), New York University (M.A. English Literature 1951), and the University of Basel (Th.D. Old Testament 1955). After completing his doctoral studies, he taught Bible at Goshen College Biblical Seminary and several colleges and seminaries in the Chicago area before moving to Canada in 1969 to join the Religious Studies faculty of Conrad Grebel College.
In 1957 John and his wife Louise were founding members of the Reba Place Fellowship, an urban church-community in Evanston, Illinois. While in Evanston, John worked for nine years in psychiatric rehabilitation at the Chicago State Hospital. Since coming to Canada the Millers have been active in Mennonite affiliated house churches. In 1992 John was ordained as pastor for a house church that became responsible for the Blenheim Retreat and Bible Study Centre.
Miller was born in Akron, Pennsylvania, in 1926. In 1949 he married Louise Heatwole from Virginia. The Millers reside in Kitchener, Ontario. They have three children, grandchildren, and great-grandchildren.