Difference between revisions of "Kreider, Alan. "Tornillos en la Lengua y Testimonio." 2008."
From Anabaptistwiki
 

Line 17:
Line 17:
 

[[Category:Anabautismo]]

 

[[Category:Anabautismo]]

 

[[Category:Mennonite Mission Network]]

 

[[Category:Mennonite Mission Network]]

 
+
---
Revision as of 16:48, 7 December 2020
---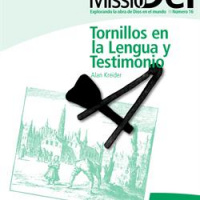 Contenido:
Sinopsis:

En los años de 1570, era tal la determinación de las autoridades europeas de acallar a los creyentes anabautistas que idearon un tornillo de metal para engrampar sus lenguas, y así impedirles hablar y evitar que se entendiera o pareciera tontería el testimonio que trataban de dar a cualquiera que a pesar de todo quisiera escuchar.
Pocos menonitas anglos que hoy viven en el mundo occidental experimentan esta clase de respuesta represiva de su testimonio. Sin embargo, de acuerdo con Alan Kreider, los menonitas luchan por compartir su fe y eligen el silencio en lugar del testimonio verbal, como si todavía tuvieran atornilladas sus lenguas.
El autor formula en este librillo por qué pasa esto, y luego sugiere maneras concretas de movilizar a menonitas y otros cristianos hacia un enfoque más confiado y gozoso de vivir y compartir "la esperanza que hay en ellos"
Este ensayo fue presentado originalmente durante la Semana de los Pastores en el Seminario Bíblico Menonita Asociado, en enero de 2008. Se publica aquí para distribuirlos de manera más amplia debido al animando diálogo que suscitó y a los muchos pedidos recibidos durante la ocasión.