Paul M. Lederach
From Anabaptistwiki

Home A B C D E F G H I J K L M N O P Q R S T U V W X Y Z Abbreviations Glossary
---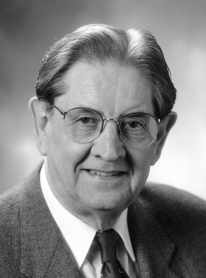 Paul M. Lederach, of Souderton, Pennsylvania, the author of Daniel, was ordained to the ministry in the Franconia Mennonite Conference at Norristown, Pa., in 1944. Since then, he has served in a variety of pastoral and churchwide responsibilities.
While connected with the Mennonite Publishing House (1952-78) at Scottdale, Pa., he was an editor of the pioneer Mennonite graded Sunday school project, the Herald Graded Sunday School Series (1953-61), a cooperative venture with the General Conference Mennonite Church. He served as director of the Curriculum Development and Service Department (1961-69) and as administrator of the Congregational Literature Division (1970-73). From 1973 to 1978 he was the executive director of the Foundation Series, the second graded Sunday school curriculum project, this time involving five cooperating denominations.
Lederach served as president of the Mennonite Board of Education (1964-71) and has represented the Franconia Mennonite Conference on the General Board of the Mennonite Church. While living in Scottdale, he was active in the Allegheny Mennonite Conference, serving in executive positions and as an overseer. He served as pastor of the Franconia Mennonite Church from 1987 to 1991.
Lederach received a BA from Goshen (Ind.) College, a ThB from Goshen Biblical Seminary, an MRE from Eastern Baptist Theological Seminary (Philadelphia), and a DEd from Southwestern Baptist Theological Seminary (Fort Worth). Among his published books are Reshaping the Teaching Ministry, Mennonite Youth, Teaching in the Congregation, and A Third Way.
Paul and his wife Mary (Slagell), an elementary public school teacher, are the parents of four children. Until his death in January 2014, Paul was a member of the Norristown New Life Mennonite Church.