Roth, John D. and Thomas Yoder Neufeld. "'Believe and Be Baptized': Conversations on Baptism in the Anabaptist-Mennonite Tradition." 2022
From Anabaptistwiki
---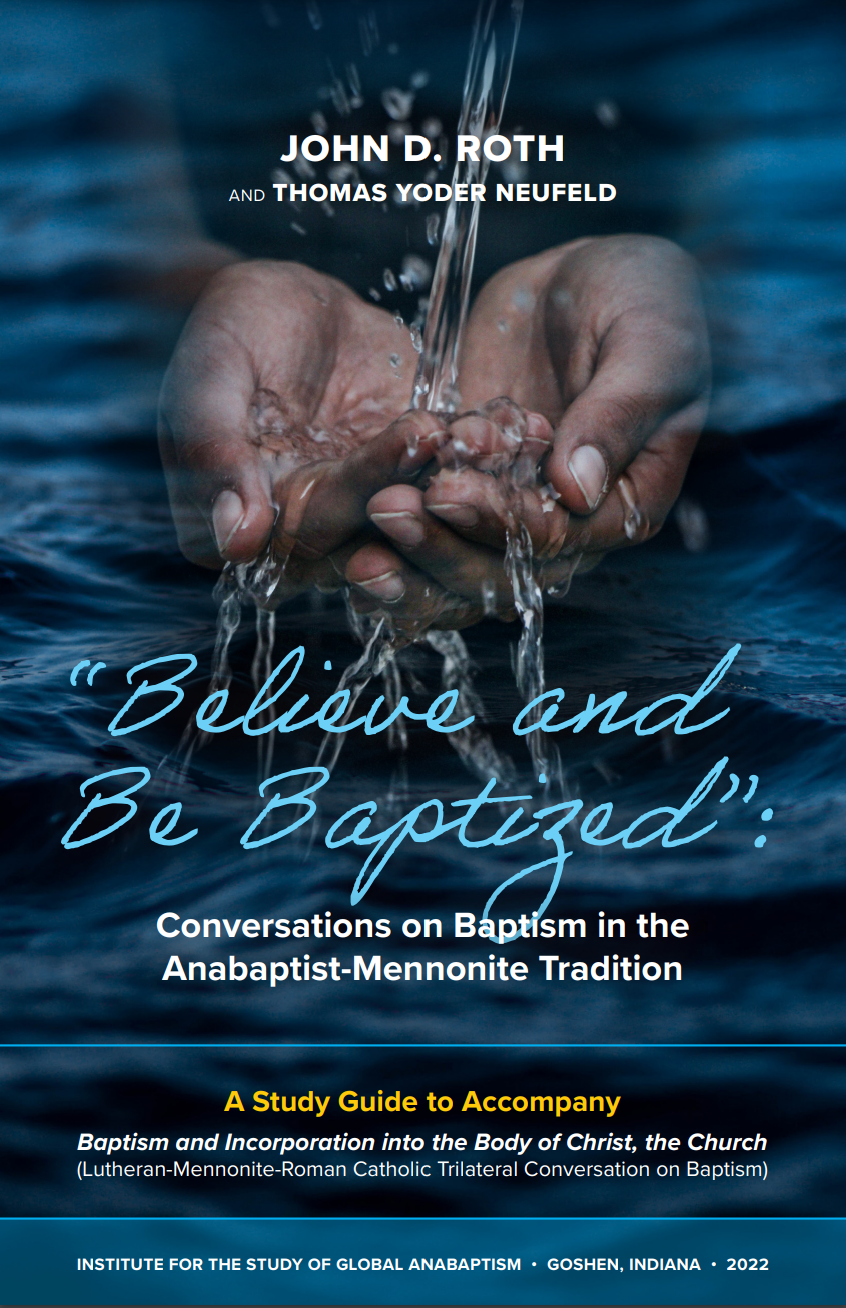 Contents:
Introduction

CHAPTER 1 - Baptism in the Christian Tradition

CHAPTER 2 - Anabaptist Understandings of Baptism

CHAPTER 3 - Anabaptist-Mennonites in Conversation with Each Other . . . and with Other Christians

CHAPTER 4 - The Trilateral Dialogue - Understandings of Sin, Salvation, Grace, and Faith

CHAPTER 5 - Sacrament or Symbol? Faith and the Ritual of Baptism

CHAPTER 6 - Baptism and the Church

CHAPTER 7 - Baptism and Christian Discipleship

CHAPTER 8 - Enduring Questions ... and Challenges Accepted
Summary:
This study guide is intended to help introduce "Baptism and Incorporation into the Body of Christ, the Church" to churches who are part of the Anabaptist-Mennonite tradition. It begins with a brief overview of the ritual of baptism in the Bible and the Early Church, and traces the emergence of the Catholic tradition of infant baptism. It then introduces the Anabaptist conviction that following Jesus and participating in the life of the church should be a conscious decision, symbolized by voluntary, or adult, baptism, rather than infant baptism.
Subsequent chapters extend the conversation to the larger Christian Church by following the structure of "Baptism and Incorporation into the Body of Christ, the Church", giving particular attention to the relationship of baptism to sin, grace, faith, discipleship, and the life of the church. Although the orientation of the study guide is clearly intended for an Anabaptist-Mennonite readership, the text always seeks to present the Catholic and Lutheran perspectives in a clear and fair way.
Along the way, the study guide also attempts to honestly acknowledge a host of pastoral questions that Anabaptist-Mennonite congregations continue to confront:
what is the appropriate age of baptism (especially for those who are raised in the church?)
how do we know if a candidate is ready for baptism? what kind of instruction is required?
does the mode of baptism matter?
what is the link between baptism and church membership? or Christian discipleship?
how do we appropriately invite young people and visitors to baptism?
what is the relationship between God's initiative of grace and the human response?
can adult baptism be repeated?
should newcomers who were baptized as infants be rebaptized?
what is our understanding of baptism for the cognitively impaired?