Difference between revisions of "Suárez, José Luis. "Metamorfosis: La madurez cristiana en un mundo cambiante." 2013"
From Anabaptistwiki
---
Latest revision as of 12:54, 18 March 2019
---
Un libro como éste solamente se puede escribir como en efecto lo ha hecho José Luis Suárez, desde la mira privilegiada del otoño de la vida, con el sosiego de la jubilación y disponiéndose a reflexionar sobre un camino andado que —por muy increíble que a uno la parezca— resulta que ya es largo.
El autor fue durante décadas pastor evangélico menonita. Primero, brevemente, en Bruselas; después en Barcelona.
---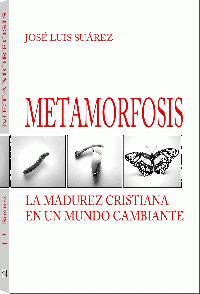 Contenido
Presentación

Agradecimientos
La vida es cambio
La madurez en la Biblia
Algunos mitos acerca de la madurez
Metamorfosis
Paciencia
Flexibilidad
Paradojas
Humildad
Perfección
Riesgos
Generosidad
Manos abiertas
Cambios
Espacios expansivos
Solos y acompañados
Amor
Libertad
Jesús, modelo de madurez