Difference between revisions of "Yahweh War (in Deuteronomy)"
From Anabaptistwiki
Line 5:
Line 5:
 
 
 

== Bibliography ==

 

== Bibliography ==

−

* Block, Daniel I. ''The Gospel according to Moses: Theological and Ethical Reflections on the Book of Deuteronomy''. Eugene, OR: Cascade, 2012.

+

*  

−

* Janzen, Waldemar. ''Old Testament Ethics: A Paradigmatic Approach''. Louisville, KY: Westminster John Knox, 1994.

 
−

* Kaiser, Walter C., Jr. ''Toward Old Testament Ethics.'' Grand Rapids: Zondervan, 1983.

 
−

* Martens, Elmer. "How Is the Christian to Construe Old Testament Law." ''Bulletin for Biblical Research'' 12/2:199–216.

 
 
 
 

== Invitation to Comment ==

 

== Invitation to Comment ==
---
Revision as of 15:17, 7 November 2018

Home A B C D E F G H I J K L M N O P Q R S T U V W X Y Z Abbreviations Glossary
---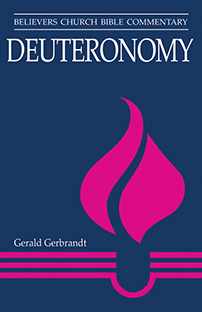 Bibliography
Invitation to Comment
To recommend improvements to this article, click here.